Planning To Buy Your First Home in Florida?
There are quite number of options for buying a house in Florida for the first time.
The first option that we would want to share is USDA – "A Government Insured Program" which is a no money down home loan option for the residents of Florida. This mortgage program comes with following benefits:
NO money down
Low interest rates
30 year fixed rates
Government guaranteed
Flexible credit guidelines
Roll in the closing costs into the loan
Apply now and our USDA loan expert will get back to you!
Call now and start your path towards financial freedom!
First Time Home Buyer Programs In Florida
We will be discussing a lot about USDA home loan program, but before that lets take a look at some other "Government funded loan programs in Florida" for a first time home buyer.
FHA : Insured by the Government of United States, FHA home loan program is a good fit for Homebuyers with not so great credit score. You can be eligible with FICO score as low as 580 and with about 3.5% for down payment.
VA : This government program is for serving or retired US veterans. VA loan program is also a no money down loan program and a great option if you can qualify for it.
Here on we will focus on USDA program and explain property eligibility by area and eligibility by income limits for the residents of Florida. If you compare monthly mortgage payment between different loan programs you will understand that USDA is the best loan option therefore we will focus on this program for the rest of the article..
We want you to save money by choosing the best option
Florida Areas that Qualify for a USDA Home Loan
Just by looking at the map from different parts of Florida, you can imagine all the beautiful places that are eligible for a USDA home loan. As a quick reference for first time home buyer, any part of the map which is white in color is in an eligible area and the property will qualify for USDA Loan. The peach areas in the map are not in the eligible zone.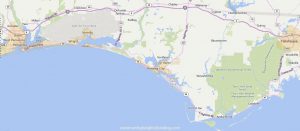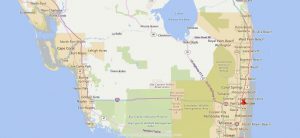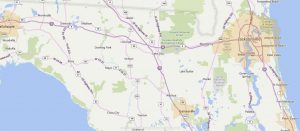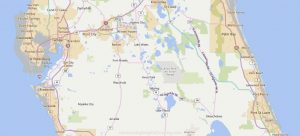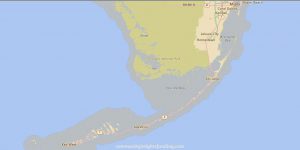 USDA loans are also known as "Rural Development Loans" but the term itself can be misleading as communities outside of major metropolitan area in Florida 1 may be eligible for the program.
Florida USDA Loan Income Limits By County
USDA program is designed for families with moderate to lower incomes, therefore the income of homebuyers looking to purchase in Florida cannot exceed the limits which are set by the county's. The average household income limits for a USDA home loan in Florida range from 90,300- 152,850 depending on what county you live in and the size of your family. The summarized break down is given below along with a complete list of county wise breakup.2
| | | |
| --- | --- | --- |
| County / Areas | Family Size 1-4 | Family Size 5-8 |
| Naples, Immokalee, Marco Island | $94,650 | $124,950 |
| West Palm Beach, Boca Raton, | $101,000 | $133,300 |
| Fort Lauderdale | $102,500 | $135,300 |
| Miami, Miami Beach, Kendall | $105,100 | $138,750 |
| Monroe | $115,800 | $152,850 |
| All Other County's / Areas | $90,300 | $119,200 |
USDA Approval Turn Times In Florida
Just like any other type of loan, USDA loans in Florida have to go through the underwriting process in the end lender will submit that loan to USDA (United States Department of Agriculture). USDA has to do a final approval and audit of that loan. Currently average turn times in Florida is approx 7 days but it can be as high as 3-4 weeks as well.
USDA Approved Lenders In Florida
The first step to getting a USDA loan is to find a lender authorized to work in Florida because the your loan file can only be submitted to USDA by an approved lender. Being a first-time home buyer in Florida we do not expect you to know everything about the rural home program, we are here to help!
At Heights we are USDA-approved lender to operate in the state of Florida. For a more comprehensive list of other participating lenders from Florida please follow this link.
Reviews By First Time Homebuyers In Florida
Mitch, Mike and Catherine were awesome. We were able to get the house we wanted. Extremely detailed with the information they give. I have to say I will recommend there services to anyone I talk to about buying a home. My credit was 620 and I got approved for a FHA Loan with a 3.75 interest rate. They worked around all my options and this is the best deal I have gotten in a long time. I am 32 years old, this was my first home purchased.
Jessica Bazemore
Cooper City, FL
My husband and I recently used Community Heights Funding Inc for the purchase of our first home. We worked with Mitch M and Catherine G, and they were always available for the 100's of questions we had. They really cared about our finances and steered us in the best direction. We would highly recommend them for any of your mortgage needs.
Natalia
Fort Myers, FL
Community Heights Funding Inc. were a great company for us. As first time home buyers, we had a lot of questions. MITCH was quick to return our email with very professional answers. Overall our loan was smooth sailing.
Karen
Orlando, FL
I have to say that Mitch, my loan officer, did a wonderful job in helping me to become a first time home buyer. Recommend this company to all!!!
Jorel Deralus
Fort Myers, Fl
They made my experience as a First time homebuyer so peaceful and enjoyable. They were always there to answer my questions and made sure I understood the process. I appreciated the fast response time. I could not have asked for better people to work with!! Hands down, they are the BEST!!
Eric Woods
Daytona Beach, FL
We Brought Smiles To More Than 3200 First Time Home Buyers in Florida
Lets get you started!
Call now or fill up the application form.
Share with Family and Friends
Navigation
Our Address
Community Heights Funding Inc.
1475 W 114th St.
Cleveland, Ohio – 44102